Aircon Services & Price List
As one of the best Singapore Aircon Services company, Cool-Aire Aircon Servicing Singapore knows how to do the job right at the most affordable prices in the industry.
We strive to provide our customers with the highest satisfaction through our aircon knowledge and experience by always getting the job done right.
Our team comprises aircon professionals with over 20 years of experience in aircon services in Singapore. Our fully accredited team has the expertise and experience to provide aircon servicing and aircon cleaning for all aircon brands while at the same time, ensuring customer satisfaction.
if you face any aircon problem, you can count on Cool-Aire to solve all your aircon problems.
Normal / General Aircon Services
&

Price
Our General / Normal Servicing Includes:
Bacteria & Virus Cleaning Chemicals
Removal, Cleaning & Servicing of Aircon Filter
Thoroughly Cleaning of Fan Blower
Removal, Cleaning & Servicing Of Water Tray to Ensure Algae Free
Cleaning & Servicing of Aircon Fan Coil
Cleaning of Aircon Drain Pipe
Checking of Aircon Gas
| NO. OF UNITS | AD-HOC SERVICING | SERVICE WARRANTY |
| --- | --- | --- |
| 1 Fan Coil Unit | $50.00 | |
| 2 Fan Coil Units | $70.00 | 90 days warranty for workmanship |
| 3 Fan Coil Units | $30.00 / Per Unit | |
Aircon Chemical Wash Services
&

Price
Aircon Chemical Wash Includes
Bacteria & Virus Cleaning Chemical
Removal, Chemical Cleaning & Servicing of Aircon Filter
Thorough Chemical Cleaning & Servicing of Fan Blower
Removal, Chemical Cleaning & Servicing Of Water Tray
Chemical Cleaning & Servicing of Aircon Fan Coil
Inspecting & Chemical Flushing of Aircon Drain Pipe
Checking of Aircon Gas
Wall Mount Aircon Services Price
| NO. OF UNITS | AD-HOC SERVICING | SERVICE WARRANTY |
| --- | --- | --- |
| 1 Fan Coil Unit | $80.00 | 90 days warranty for workmanship |
Portable / Casement / Window Aircon Services Price
| NO. OF UNITS | AD-HOC SERVICING | SERVICE WARRANTY |
| --- | --- | --- |
| 1 Fan Coil Unit | $150.00 | 90 days warranty for workmanship |
Aircon Chemical Overhaul Services
&

Price
Aircon Chemical Overhaul Includes
Bacteria & Virus Cleaning Chemical:
Dismantle Entire Indoor Aircon Unit & Chemically Treat Individual Parts
Inspecting & Chemical Flushing of Aircon Drain Pipe
Chemical Treatment of Aircon Fan Coil & Filter  to Remove Odor
Chemical Treatment of Water Tray
Checking of Aircon Gas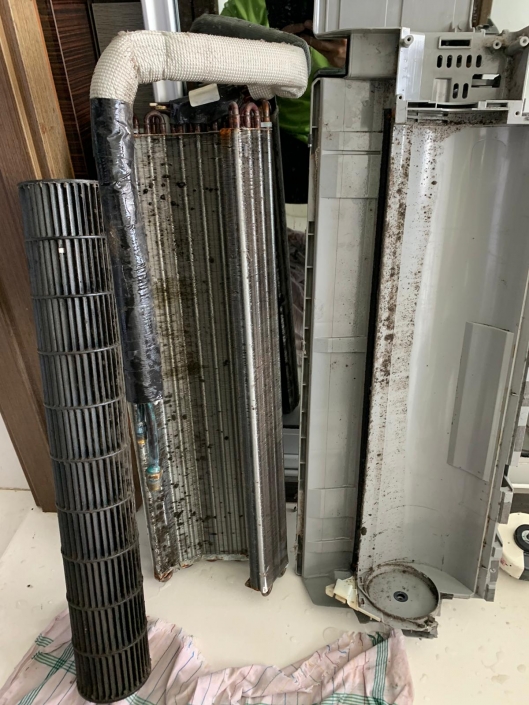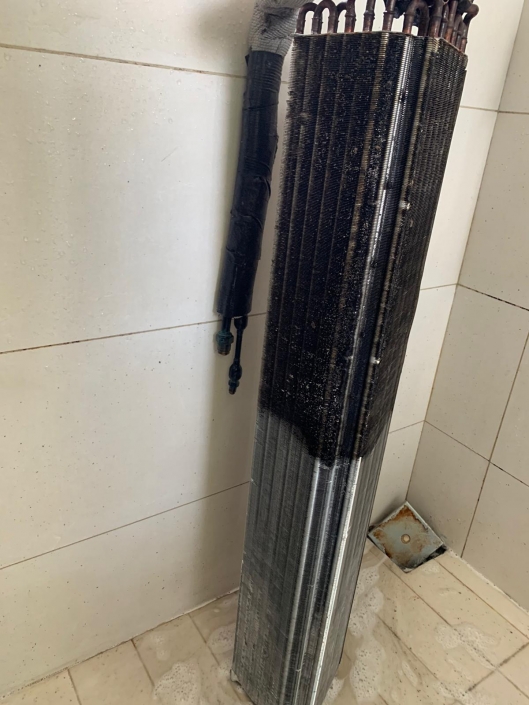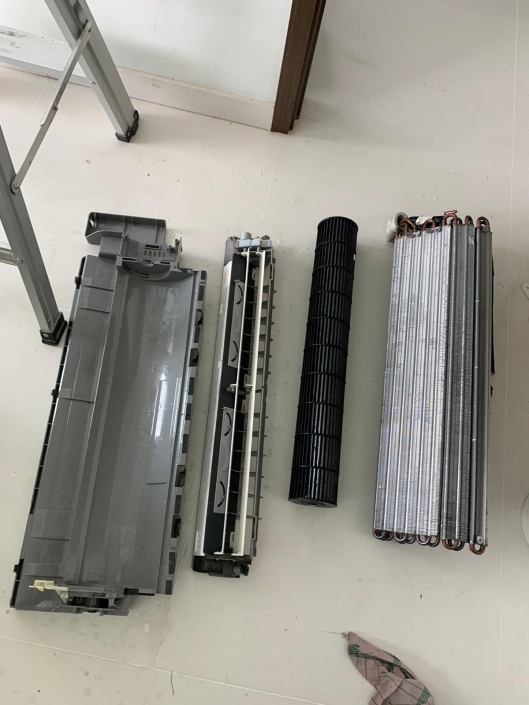 (FCU Unit 9000 BTU – 12000 BTU)
| NO. OF UNITS | AD-HOC SERVICING | SERVICE WARRANTY |
| --- | --- | --- |
| 1 Fan Coil Unit | $150.00 | 90 days warranty for workmanship |
| 3 & Above Fan Coil Unit | $120.00 | |
(FCU Unit 18000 BTU – 24000 BTU)
| NO. OF UNITS | AD-HOC SERVICING | SERVICE WARRANTY |
| --- | --- | --- |
| 1 Unit | $180.00 – $200.00 | 90 days warranty for workmanship |
Is aircon servicing important ?
Aircon servicing is a necessary part of your aircon maintenance. The benefits of regular maintenance includes:
1) The longevity of your aircon. A well maintain air-conditioning will be able to last longer
2) Clean aircon ensures that your aircon is operating at its optimal level which in turn helps reduce your utility bill.
3) Cleaner air circulation which is important if you have family members with a sensitive nose.
As the cost of air-conditioning rises, it is definitely cheaper to do aircon maintenance than to purchase a new aircon. On top of that, by keeping your aircon clean, you save on your electrical bills while ensuring that the air that is produced is cleaner for you & your family.
How Often Should You Service Your Aircon ?
As with all equipment, the higher the usage, the more often maintenance is required. Below is rough time frame of usage for your reference.
Regular Usage
If you use daily on an average of 6-8 hours daily, you will require to service your aircon on a more regular.
With higher usage, dust & dirt starts to accumulate and over time may decrease the efficiency of your air-conditioning.
For daily usage, we recommend general aircon servicing to be done on your aircon once every 3 months
Occasional Usage
For homeowners that use their aircon less often, you may choose to service your aircon on a longer interval.
For such cases, we recommend chemical aircon servicing once every 2 years to ensure the longevity of the aircon
Can you do your own aircon servicing & maintenance?
For home owners who are more hands-on and willing to clean their air-conditioning, below are some information which you can use to clean your own aircon.
The process below will guide you on how you can do basic maintenance on your aircon. These steps can be done by understanding how you can access your fan coil which can be easily be done by lifting the cover on your aircon.
Various air-conditioning models may vary and it is recommended that you do a video search on youtube to understand the method to avoid damaging your air-conditioning.
Steps 1:
Gently lift the cover of your aircon and remove the filters
Step 2:
Thoroughly wash your filters with water and dry it before putting the filters back into your aircon
Step 3:
Check for any large particles of dirt that is visible on fan coil and gently use a vaccum to remove it. Do not use excessive force which may damage the fan coil
Step 4:
Place the removed filters(make sure they are dry) back into their orginal position and close the lit of yoir aircon
WHAT OUR CUSTOMERS THINK OF AIRCON SERVICES SINGAPORE – COOL-AIRE ?
The Team is so professional, they throughly investigate and check thru my air con systems to see what went wrong. Problems rectified. Their cost charges are reasonable.


The crew was slightly late due to a previous engagement but they were very professional and helpful upon reaching. They were polite and managed to diagnose the problem with our aircon which is working well now, which I am very thankful for! The crew were not pushy and didn't try to upsell us with unnecessary procedures. Will definitely engage Coolaire again moving forward!

Very professional and helpful Technision, as well giving great advice . Very happy with the work attitude.

Did a chemical overhaul on my 7 yrs old aircon by Wei and Yan on 14Nov. Excellent service and very professional. Wei was very kind to explain the condition of my aircon and what this cleaning could do and improve its condition. Would definitely engage their services again

Very fast and reliable service. If you need air con service you can trust, look no further. Highly recommended you to engage them.

Yen and Way are very professional. They explain what they are doing and showed me the parts that need attention. After servicing they cleaned up the place thoroughly. Have been using them for few years. Highly recommended.

I used the company's service for previous years for Chemical overhaul & service has always been pleasant.Techician Yen & Way service and expertise was excellent at recommending what was best, and on the same day able to change out my faulty air con. Kuddos to them and i applaud their patience as well.They did not leave any mess, which was very professional and im impressed with their work.Hoping the best service from in the coming years and will recommend to my family & friends defintely.

The team was patient and knowledgable. They were very professional and gave us an honest assessment of the matter. It was a breeze to set up an appointment and they were very efficient. Kudos to their excellence.

Technician knowledge is good and willing to give advice on what setting to select to make your A/C last. Service fee is reasonable.

DC AIR CONDITIONING PTE LTDWith Yen and Way, two gentlemen that have repair a hudge damage on my celling aircond in my previous unit, and when we moved to a new unit, they did all the chemical cleaning and never push for hard celling or changing old aircond. They have the best interests of the tenant and landlords, and do a professional service, smiling, efficient, JUST AN AMAZING TEAM !!!

This is our second time using Cool-aire services as we had very good impression from our first service last year. The process of booking of fast, easy and pleasant via Whatsapp and they are accommodating. Send them photos and they instantly had the solution. Uncle Leong was very professional and on time. The whole repair period he was just quietly hard at work. So far we have had them over for chemical wash and repairs and both times it was pleasant and competitively priced. Highly recommend their service!

Great job and very detail.Thanks

Wonderful Service. Very prompt in keeping up with appointment. Will definitely recommend to friends n relatives.

Excellent and wonderful service. The technician who came is very nice and friendly. I'm satisfied with their service.

Fast response , price reasonable and David was very honest, experience and patient to answer me all


Price is reasonable, arriving on time, professional servicing, able to answer any questions politely

David is very knowledgeable and professional in his service and repair works. He was very determined to solve problems and never give up. His charges were reasonable. I will recommend his company services to anyone requiring aircon related services and repair work.

The technician assignedwassigned very responsible and punctual for the servicing. He gave valuable advices and kept the area clean. The services provided is of reasonable pricing as well. Will definitely look for them again. Highly recommended.

Dealing with David from the company and I am impressed by his professionalism in making thorough checks on my compressor. He gave me very detailed explanation and will recommend to everyone for the service.


Offers quality service, Engaged them for my aircon servicing, which I find them very friendly and really take reasonably on what they do . Making sure that I am receiving the right stuff . Trustworthy !! Thank you :)

Very responsible and well service.

GREAT SERVICE..and efficient + no price is reasonable

Highly recommended. Reliable. Good service. no hidden cost.

Very honest and experience. Others ask me to change the entire air con system but only david says, need to replace main board. Shared with me both the cost, both fixing and replacing. Highly recommended David!

No bs aircon guys. Came & fixed my ac fast at a fraction of the cost of competitors. Really nice staff, highly recommend.

100% highly recommended......the serviceman is really good and very experienced....hard to find this kind of sincere and committed serviceman that do a proper servicing especially not a common type such as my casement aircon........do a thorough job and also do chemical cleaning with very appropriate price......never urged me to change any part or new one due to leaking but try his best to make my casement aircon work like brand new.thank you for the good servicing and will definitely come back if servicing needed again

Very thorough inspection and cleaning, and clean up the work area after servicing. 5/5 for quality and service.

Very efficient. Willing to accomodate to my last minute request. Was surprise with how clean they kept the place

Good and honest company. No worries of them overcharging. While not the cheapest, value for money and good knowledge in helping to repair and service my air con.

Engaged Cool Aire for my parents' house AC servicing and later my new BTO system 4 installation. Excellent workmanship and after sales service.Thumbs up for David and his team's professional service.

This was my best aircon servicing experience. Been asking around from a few companies if they could fix my aircon issue but all asked me to change except coolaire. They came over, inspect and fix it within 1 hour. Thank you coolaire for the wonderful experience!

Very good quality and friendly service at a reasonable charge for indoor unit swap. Initially thought the total indoor unit has to be transplanted but David prescribed only the PCB and fan blower is needed at a lower charge. This is in contrast to a number of other companies that is just trying extort a sum from you.Will recommend to friends and associates

Thank you so much for the fast and efficient work.you are my best contractor so far.

WHY CHOOSE COOL-AIRE AIRCON SERVICING SINGAPORE ?
Full suite of aircon services ranging from aircon servicing to repairing and installation.
Experienced team of aircon professionals with more than 20 years of experience.
We deal with a wide range of brands which makes it easy for customers which they are faced with a problem.
Unmatched Customer Service, 20 years of experience, and thousands of satisfied customers. You can be assured your job is in good hands