BEST AIRCON SERVICING SINGAPORE
Welcome to Cool-Aire, with more than 20 years experience in aircon servicing, cleaning and repair in Singapore, we are able to help you with servicing, repairing and installing of your aircon.
Aircon Servicing
&

Repair – Cool-Aire
As one of Singapore's best aircon servicing & repair, we know how to do the job right at the most affordable price in the industry. You can count on us to fix all your aircon problems. Our team possess in-depth knowledge and extensive experience which can get the job done right.
Our team is stationed around Singapore and can respond on short notice. Our team comprises aircon professionals with more than 20 years of experience with aircon servicing, cleaning & repair.
If you need help tracking your aircon cleaning schedule or you're a commercial business that requires scheduled attention for your commercial aircon services for your air-conditioner, you can count on us as your aircon partner. Like the thousands of customers that we work with, we help them ease the pain of aircon maintenance and servicing by doing regular follow up to ensure that their air-conditioning is functioning at peak performance.
With a strong track record of thousands of happy customers and a capable team, our fully accredited team has the expertise and experience in providing aircon servicing for all aircon brands while at the same time, ensuring customer satisfaction.
Are you in the market looking for a trusted aircon partner? If yes, look no further. At Cool-Aire Aircon Servicing Singapore, if you are looking for aircon installation, servicing, cleaning, repair, maintenance or a complete chemical overhaul for your aircon units, we want to help you.
Get in touch with one of the best aircon servicing Singapore company like us for high-quality aircon services that will bring you cool air in no time.
Check out some of our services below to get a better understanding on the types of services you can expect from us today.
Our normal aircon servicing includes aircon cleaning and inspection ensuring that your air conditioner stays in optimal performance.
Our Aircon Chemical Overhaul will dismantle and thoroughly clean each part of your air conditioner with safe cleaning chemicals.
Our AC Chemical Wash uses specially formulated chemicals that are safe and leaves your air conditioner clean and dirt free.
We offer AC Repair & Troubleshooting for all major brands in Singapore. Equipped with the right tools and knowledge, you can be assured we will solve your aircon problem.
Our team of AC Specialist will check your air conditioner gas level after every service to ensure that there is no aircon gas leaks.
Cool-Aire provides Air Conditioner Installation services of major air conditioner brands for both residential and commercial businesses.
How we Provide Aircon Cleaning Services
Normal Services includes:
Bacteria & Virus Chemical Cleaning
Removal, Cleaning & Servicing of Aircon Filter
Thoroughly Cleaning of Fan Blower
Removal, Cleaning & Servicing Of Water Tray to Ensure Algae Free
Cleaning & Servicing of Aircon Fan Coil
Cleaning & Servicing of Aircon Drain Pipe
Checking of Aircon Gas Level For Any Gas Leaks
General / Normal Servicing Pricing

| No. Of Units | Ad-Hoc Servicing | Service Warranty |
| --- | --- | --- |
| 1 Fan Coil Unit | $50.00 | |
| 2 Fan Coil Units | $70.00 | 90 days warranty for workmanship |
| 3 Fan Coil Units | $25 Per Unit | |
Chemical Cleaning cleaning includes:
Bacteria & Virus Chemical Cleaning
Removal, Chemical Cleaning & Servicing of Aircon Filters
Thorough Chemical Cleaning & Servicing of the Fan Blower
Removal, Chemical Cleaning & Servicing Of Water Tray
Chemical Cleaning & Servicing of Aircon Fan Coil
Inspecting, Chemical Flushing & Servicing of Aircon Drain Pipe
Checking of Aircon Gas Level For Any Gas Leaks
Aircon Chemical Wash Pricing

| No. Of Units | Ad-Hoc Servicing | Service Warranty |
| --- | --- | --- |
| 1 Fan Coil Unit | $80.00 | 90 days warranty for workmanship |
Chemical Overhaul Services includes:
Bacteria & Virus Chemical Cleaning
Dismantle the Entire Indoor Aircon Unit
Chemical Cleaning & Servicing Of Individual Aircon Parts From Blower to Fan Coil.
Inspecting, Chemical Flushing & Servicing of Aircon Drain Pipe
Chemical Cleaning & Servicing of Aircon Fan Coil & Filter  to Remove Odor
Chemical Cleaning & Servicing of Aircon Water Tray
Checking of Aircon Gas Level For Any Gas Leaks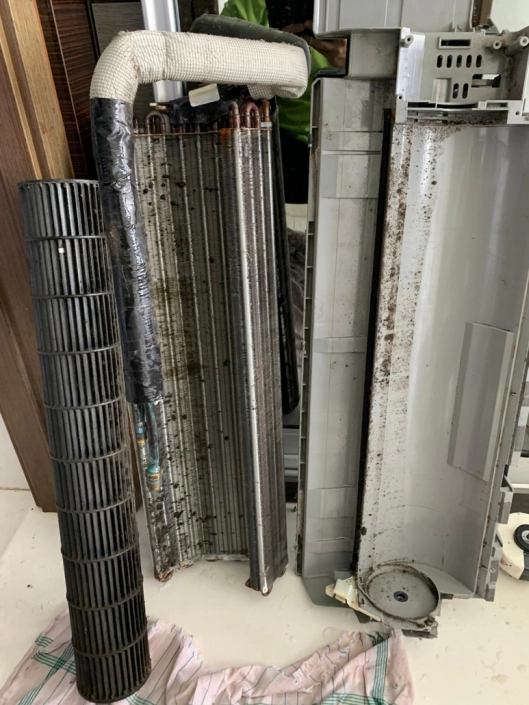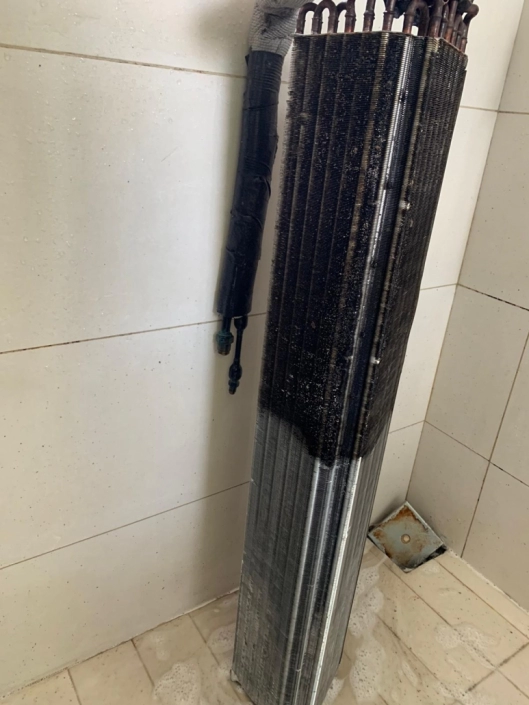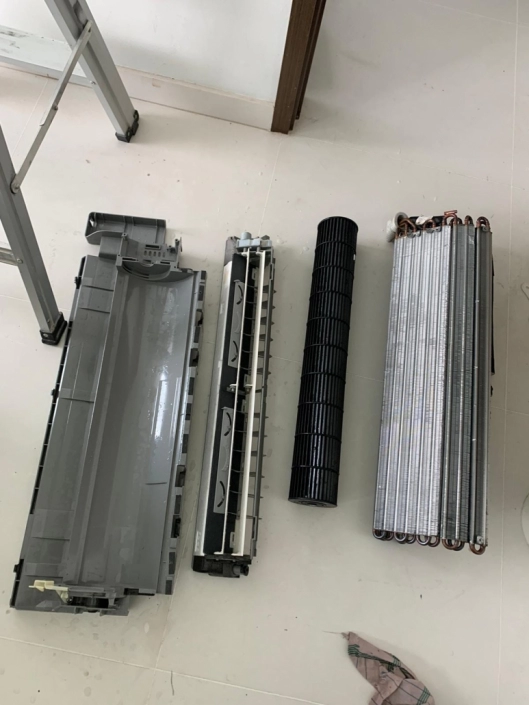 Aircon Chemical Overhaul Pricing

| No. Of Units | Ad-Hoc Servicing | Service Warranty |
| --- | --- | --- |
| 1 Fan Coil Unit | $150.00 | |
| 3 & Above Fan Coil Unit | $120.00 | 90 days warranty for workmanship |
Repair Services Includes:
Site / Home inspection
Identify the root cause of the aircon problem
Offer various solutions, pros, and cons of each aircon solution
Rectify and fix the aircon problem
Aircon Repair & Troubleshooting Prices

| DESCRIPTION | RATES |
| --- | --- |
| On site survey / Transport charges | $50.00 |
| VRV / VRF Troubleshooting – On site survey / Transport charges | $150.00 |